Welcome to Steele Animal Hospital
---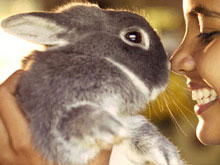 We are a full service veterinary hospital offering quality professional care for your pets.
Our clean, modern American Animal Hospital Association (AAHA) accredited facility is designed with the most state-of-the-art equipment available. We meet rigid standards to be accepted as one of the few facilities that have the distinction of a three year accreditation.
Our medical staff consists of Certified Veterinary Technicians and assistants that offer professional, caring support and treatment for your very special furred friends.
As pet owners ourselves, we understand the bond between people and their pets. We see companion animals not only as pets but as valued family members. The care that we provide is the same quality medical care that we would expect for our own feline and canine companions. We believe our Mission Statement best describes our care for your loved ones.
Our Mission Statement
Our mission is to meet or exceed your expectations by providing the highest quality medical care offered in an atmosphere of caring, comfort and dignity for our animal patients.
AAHA Mission

The mission of the American Animal Hospital Association is to enhance the abilities of veterinarians to provide quality medical care to companion animals; to enable veterinarians to successfully conduct their practices and maintain their facilities with the highest standards of excellence; and meet the publics needs as they relate to the delivery of companion animal veterinary medicine.