Services Provided
---
Steele Animal Hospital provides an array of services for your companion animals. These services include: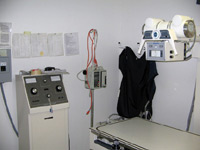 Wellness Care - Physical examinations, geriatric care and vaccinations.
Surgery - Modern surgical facility with isofluorane anesthesia
Dental Care - Routine prophylaxis, extractions and oral surgery
Radiology
Laboratory - In house and outside lab services
Hospitalization - In hospital nursing and monitoring
Pharmacy
Boarding - Separate facilities for dogs and cats
Bathing
Information Every Pet Owner Should Know.
The importance of preventative medicine cannot be denied. Many disease processes can be treated more effectively with early intervention. Routine examinations can help to diagnose an illness at an earlier stage.
With routine diagnostic testing, a series of internal problems can be detected, including: intestinal parasites, heartworms, liver or kidney disease, cardiac or respiratory malfunctions, anemia, infection, diabetes and other maladies.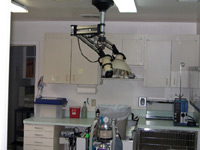 Vaccinations help to prevent many deadly diseases that can affect your dog or cat. Even if your pet never leaves the security of your home, he/she may be susceptible to certain viruses. We recommend a series of vaccinations for all young puppies and kittens and an annual physical and semi-annual vaccinations for older pets.
Rabies is a virus that affects humans as well as many mammals. For this reason all dogs and cats in Pinellas are required to be vaccinated and licensed. This ordinance is enforced by Pinellas County Animal Services. Presently there is a 3 year rabies vaccine available in Pinellas County.
The needs of pets vary considerably from infancy through geriatrics. It is the focus of Steele Animal Hospital to educate our clients about the needs of their pets as they grow and age. Annual physical exams allow us to evaluate your pets and meet his/her individual needs.
Common Signs of a Sick Pet
Vomiting/diarrhea
Change in appetite
Change in water consumption
Increase or decrease in weight
Listlessness or change in routine behavior
Coughing/sneezing/runny eyes or nose
Straining to urinate or defecate
Hair loss, excessive itching, open sores or bald spots
Odor from the mouth or ears
Labored breathing
Fainting, seizures or trembling
Change in routine behavior, painful
Limping or change in gait
Sudden blindness or deafness